The design calls for cable steering, which I had planned to use until talking to Wil Hamm at
WH Autopilots
. He convinced me that hydraulics offer a more dependable system that is easier to install and maintain than cables when used with an autopilot. Fishing boats in Alaska have used these systems every day for decades with little or no service at all. An arm attaches to the rudder post driven by a cylinder, controlled by either the autopilot motor pump or manually by the helm pump. A bypass valve is installed to allow the tiller to turn the rudder directly at any time. This also allows the helm to be locked in any position when the auto pilot is off. The helm wheel can also control the rudder anytime the bypass valve is closed. The autopilot controls will be installed in the companionway so they are accessible from both the cockpit and the inside steering station, without leaving the wheel. A
rudder angle transmitter
is installed linking the arm to the hull providing the rudder position to the autopilot when it is operating. All these parts are currently installed except the autopilot electronics which will need to be purchased. The helm pump is sold in the US by Ultraflex as model UP 39. The 39 means 39cc per turn of the wheel. Here is
a photo of a UP 20
, which looks the same, only smaller. The cylinder is also sold by Ultraflex, as
model UC 116-I
. The Hydraulic Powerpac below is manufactured by WH Autopilots on Bainbridge Island, WA. Seen in the lower part of the photo is the bypass valve.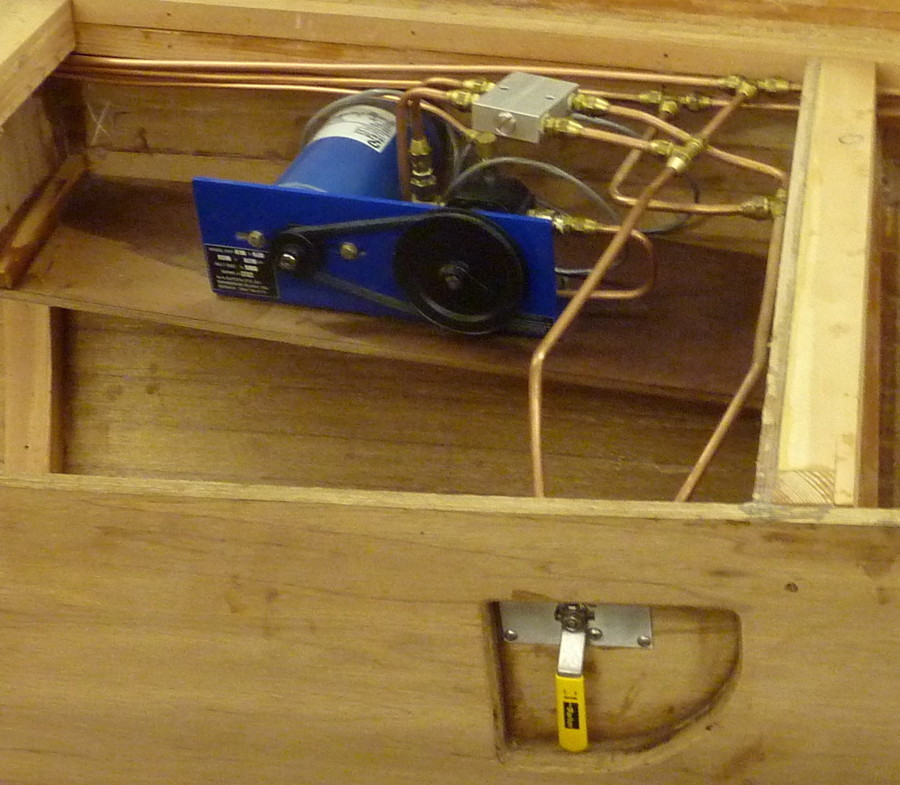 The bypass valve is set in the starboard side of the cockpit handy to the tiller. The autopilot controls are on the port side, just inside the companionway.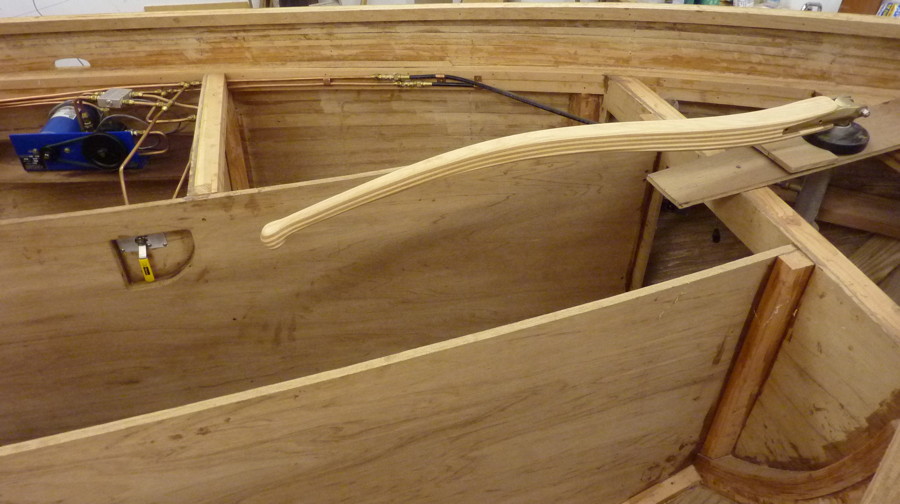 Below, the tiller sits atop the rudder post with a delrin bearing at deck level. A middle delrin bearing also serves as the stuffing box adjustment. The lower end of the rudder shaft has a third delrin bearing housed inside the skeg shoe.
Six bronze rods run full length from bronze plates on ash floors inside the hull through the skeg to nuts set into the bottom of the skeg shoe. The rudder is attached to the post with 24 through bolts in the three pairs of straps. Bronze lags are imbedded horizontally inside the rudder blade in each joint.