--- Hawaii to San Francisco - July/August 2000 ---
---
This was a trip I had always dreamed of but had never expected to get the chance to do. My friend Brian asked me in 1998 if I was interested in the trip and I immediately said yes. Brian is an experienced sailor from Australia who learned sailing on the Tasman Sea and sailed his own boat from New Zealand to Canada and had made the trip from Hawaii several times. He is also the owner of "Anzam Yacht Refurbishing" and he did the restoration work on "Bettina", the Ericson 32 which was to be returned after being sailed in the Transpac Singlehanded 2000 race. I'd seen other boats that Brian had restored and had complete confidence that ours would be a safe trip.
After meeting Don, our third crew member at the Lihue airport, (on Kauai) we spent four days in outfitting and provisioning for the trip back to San Francisco. We completed installation of the water maker, lashed netting on to the forward lifelines, hung gear hammocks, installed a lee cloth in the settee bunk and Brian went up the mast to check out the spreaders and rig. Bettina was anchored half a mile out in Hanalei Bay, which has no floats, boat piers or ramps. This meant many trips out and back in various dinghies over the four days we were there from spots along the sandy shore. This included ferrying out three five gallon containers of diesel plus enough to top off the 20 gallon tank for our return trip, 30 gallons of water, five weeks of groceries, and all our gear.

Lihue Harbor, Kauai, Hawaii.

---
Clay, Bettina's owner, did well in the race, coming in third in a fleet of 23 sailboats. He and his family had rented a place on Hanalei Bay, and had us over several times, including to dinner our last night there. Clay made numerous trips back and forth, rowing his inflatable, which he had shipped from the mainland. It was fun to meet some of the other contestants and see some of the boats as they arrived at the finish line.


Brian at the helm, heading out to sea.

---
July 15 - We hoisted and stowed the anchor shortly after noon, waved farewell to people on the beach, and were on our way. We had hoped to leave at dawn, but had missed getting to Ace Hardware the night before by a few minutes and still had to buy stove alcohol, buckets, and a few other incidentals that weren't available in the grocery store. Our return strategy was to sail north on a beam reach, through the easterly Trades, until we reached the west edge of the Pacific High, giving us S - SW winds, and then following around the top of the high once W winds are encountered (usually around 40 - 41 degree north latitude). This is the usual strategy for returning from Hawaii, the only alternative is to rhumbline back, beating into the usual NE winds all the way. This year, the high had split up so that at any given time there were as many as five separate highs and the weather reports had them moving, dissipating, or reforming from day to day. So, we headed north, hoping that in the week or so that it would take us to reach where the southerly or westerly winds should be, things would be back to normal. Also, this year there were squalls. These are usually recognized by an approaching low cloud with a flat looking bottom. They could have strong wind at their front, or back, with a lull and often heavy rain. Although we passed through several hundred of these over the next three weeks, no definite pattern could be recognized in the ones we experienced. Winds could vary from nothing to 40 knots, and could hit with no warning in the dark of night. For this reason, we always shortened sail at night.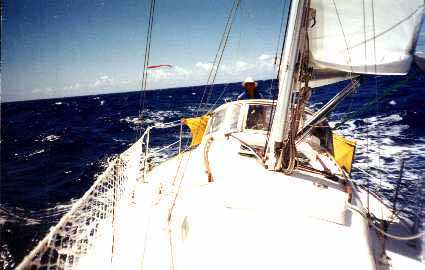 Al, taking his turn at the helm.

---
Our sailing rig consisted of a mainsail with three reefs and a 110% genoa, or working jib, on a roller furling. The typical night time rig was double reefed main and jib furled back to 20% or so. This kept our speed up to 3 knots or so and yet reduced the drive enough that when the squalls hit, we didn't have to shorten sail. Waves and swells, we soon found, limited our speed as the hull was prone to slamming, which put excessive loads on the mast and rigging. When the swell direction was well defined, we could adjust the autopilot for the best ride at a reasonable speed and point of sail. However, our net speed in the direction we wanted to go often approached zero, as we would have swells from three directions along with the squalls over much of the night and even during the day. Twice a day and sometimes more, we listened to the Coast Guard weather broadcasts on the short wave radio. I would record with pencil on a pad while Brian recorded on his tape recorder. By mid trip, I was usually able to pick up all the significant items in the 5 to 15 minute broadcast. I would then plot out the new information along with our position plots to see if we could make sense of it. On this trip, the highs were moving faster than we were, so we tried to anticipate what would happen by the time we got to a particular point.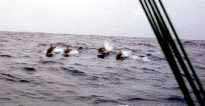 Five porpoises, checking us out.

---
On our sixth day going north, we found ourselves with no wind and we spent nearly a day with the diesel engine pushing us along in flat seas. Brian stopped in mid afternoon, and we went for a swim, taking saltwater baths with Joy liquid dishwashing detergent, with a fresh water rinse in the cockpit. Continuing on, we picked up a nice westerly wind at 40 degrees north and set the jib for a nice ride east. This lasted less than two days and we were faced with heavy, choppy swells. We knew of storms 500 miles to the north but hadn't expected to get tossed around so much this far away. Our "local high" had moved north west and our wind had changed to the northeast with gale winds and fog reported to the north, so we were forced to alternate between heading toward either Mexico or the Aleutian Islands, but could not point east and make any progress without risking damage to the boat's rigging. We proceeded like this for many days, wondering at times if our five weeks provisions would last to San Francisco. Brian continue to bake bread and cakes every few days in the pressure cooker and tried in vain to get get additional weather information via e-mail. Don and I read a lot of books.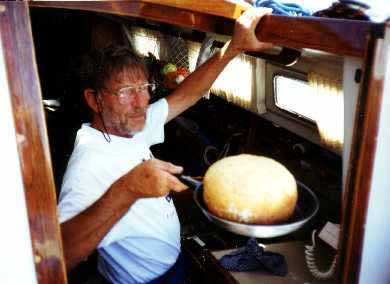 Brian, with his first of several loaves of bread.

---
During the latter part of the trip, we encountered five gales, the last one was aa we approached the California coast and was too strong for even a triple reefed main. Fortunately, Brian had anticipated that this might happen and had us well positioned so that for the last 200 miles coming into San Francisco, we ran on a beam reach with jib alone, reefed down to an area smaller than a triple reefed main or the storm jib. Had we not started this course at near 39 degrees north, we would have ended up in southern California, and Bettina would have had to wait out the gale to return to San Francisco from some bay to the south.
We saw dozens of fishing floats, all plastic except one glass one, nearly the size of a basketball that Don spotted one day and we retrieved. Brian introduced Don and I to the use of instant epoxy, which he used to repair various items which got broken during the trip. Fortunately it was always the stove, bunk, or something besides our bodies that broke as we were slammed around in the rough seas. We saw half a dozen commercial ships, most of which we contacted on our radio. Most were quite happy to report how far away we appeared on their radar, but one Russian ship with unrecognizable navigation lights was rude and a couple never answered at all. We talked to a man on a Catalina 42 who was on his way to Canada from Hawaii, making good use of his greater length to pass though the rough seas.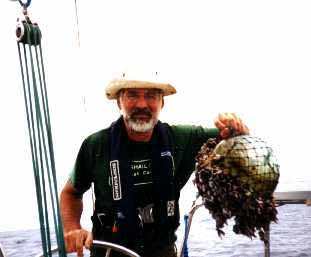 Don and his float.

---
Brian faithfully sent out e-mail reports to home despite a lot of difficulty in getting the satellite system to work the way it was supposed to and having to disassemble the the unit to clean the contacts a couple of times when it would not power up. Bettina's bilges are quite shallow and the rudder packing leaked, due to a worn rudder bearing. As a result, water was impossible to keep out of the bilge, and despite efforts to grease the packing underway and mop out the bilge water with a sponge twice a day, we still had wet food containers. For the canned goods, we wrote the contents on a piece of duct tape as the labels were becoming detached, and all the boxed goods had to be put in plastic. The roller furling lead block was set too high and the line nearly chafed in two. One of the deck organizers pulled out of the deck during the night the first week. The only ill effect was that we could no longer open the main hatch more than a crack. We couldn't open it most of the time anyway, as we often took water over the coach roof or it would come in when it rained. The steering cables needed tightening and the pulleys needed lubing, so that was done underway. Brian discovered that salt had invaded the solar panel electrical connections, so that had to be fixed to get them charging again. Our only stove lighter failed at about midpoint in the trip, and Don managed to get it apart and repair it. It was quite a remarkable feat, and it worked faithfully the rest of the trip.
Our watch schedule remained 3 hours on, 6 off at night with no schedule in the daytime. We were all satisfied with the watch rotation we started out with so we just kept it for the remainder and it worked well. Cooking and dishwashing was shared, except Brian did the baking. He had practiced with the pressure cooker before hand and produced amazing results. Although we had a water maker, it was slow and used lots of electricity and the solar panels only produced enough when there were no clouds. Since we had clouds most of the time the last half of the trip, we conserved water by washing in salt water and only rinsing in fresh. Brian had told us before the trip there would be no clothes washing, and washing the dish towel became the only exception. I kept running plots of our position on both NOAA #530 and the pilot charts as well as our weather plots. The pilot chart gave us the great circle routes, which is where we saw all but one of the commercial ships.


Seeing the Golden Gate Bridge break through the haze was a thrill.

---
We returned with 15 of our 35 gallons of diesel fuel, had another week or so of food on board and the water maker and solar panels were working, so we could have gone for another week. The blinking light off Point Reyes and the towers of the Golden Gate Bridge sure looked good, however, as they came into view. We had a nice sail through the bay and motored into Clay's slip at 3pm on August 13th, 29 days and 2800 miles after raising the anchor in Hanalei Bay. Our welcoming party presented us with cold beers and we quickly unloaded and were on our way home. In my case, it was off to Brian's in Sacramento, where I was treated to a shower, dinner and a ride to the station to catch the midnight Amtrak to Seattle.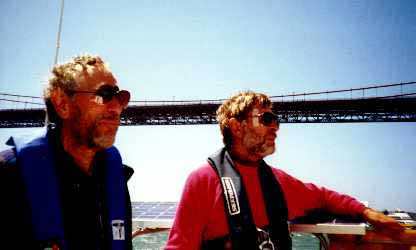 Al and Brian, under the bridge.

---
So, what did I learn from the trip? I overcame my resistance to use of roller furling headsails. We got home several days sooner and were safer for having roller furling. The sail was infinitely adjustable, allowing the boat to travel at it's best speed for wind and wave conditions. We used the jib completely unfurled only about a quarter of the time. In most cases a storm jib would have been either too little sail or too much and the next larger headsail would have been too much sail for most of the trip. Often, one turn on the furling would be just the right amount of adjustment to keep from pounding or gain an extra half knot of speed. The difference between 3.5 knots and 4 knots on a trip of this length translates into 4 days sailing time. Having the main halyard and reefing lines in the cockpit was also a blessing. Having a fast boat doesn't insure a fast passage. Our speed restraint was that Bettina could not punch through anything. She was fast downwind, but she would go airborne if not either held back or headed off in rough head seas. In the week since returning, we learned of two boats that were dismasted in returning from Hawaii during the time of our trip. The Alpha 3000 autopilot did a masterful job. During the 29 day passage, the Alpha steered 28 days, keeping us well on course in all conditions. Given the boat, having an experienced and capable skipper was the biggest factor in making a safe and comfortable trip. Although I felt that Brian was being painfully over cautious in the beginning, I came to have great respect for his judgment by the middle of the trip.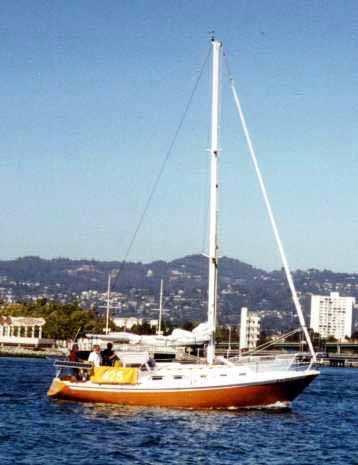 Coming in to Oakland. (Photo by Brian's step son.)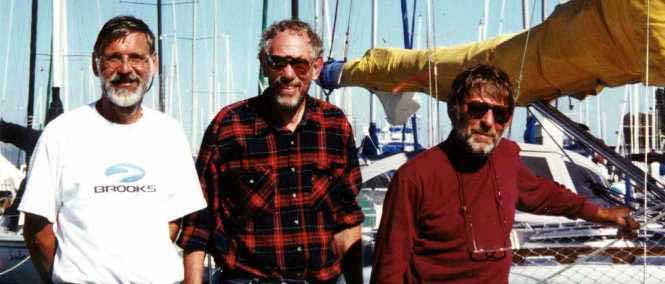 Don, Al & Brian on Bettina.
Brian's emails home during the trip.
Trip email planning archive.
Return to Menu